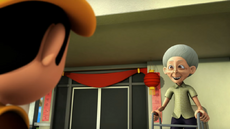 Ying's House is located in Rintis Island.
Overview
Not much content is known about this house but this is where Ying, Aunty Yang and her Grandma lived.
Design
The House is designed as a Chinese house based on the greetings on the door.
Story
This house was first seen when Ying's Grandma ordered Cocoa where BoBoiBoy Wind delivered some Cocoa.
Appearances
See Also