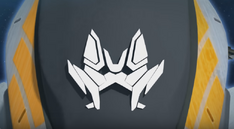 Kaizo's Team is a space team dedicated to protecting power spheres and giving power bands to the worthy. The team was known as a famous rebel alliance in the galaxy. His team was a part of TAPOPS.
Members
Leader
Captain Kaizo is the leader of the team as well as Fang's older brother. He's a proficient leader and has let the group on many successful missions. He holds the incredible power of Energy Manipulation, and he is feared throughout the galaxy as one of the most dangerous foes in space.
Lieutenant
Lahap is the right hand of Captain Kaizo and incredibly loyal to Kaizo. He highly values Kaizo's leaderships and goes to great lengths to protect and serve him. He is a unique species of alien that gives him high tolerance to toxic substances and can spit out toxic plasma energy. Lahap also has the ability to absorb the contents of things he eats.
Private
Fang is the third and last known member of Team Kaizo. He was sent as a spy to Earth, but befriended BoBoiBoy and his friends. He later joined BoBoiBoy's Gang after confronting his brother about his extremist ways. Sometime before the events of Galaxy, Fang apparently returned back to space to continue his training, presumably back with Team Kaizo and under his brother, though he rejoins BoBoiBoy's Gang by Episode 6.
Affiliations
Enemies
Trivia
Gallery
See Also