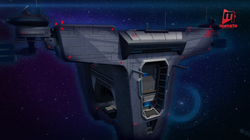 TAPOPS Station is a station owned by TAPOPS and used by its members to stay. It is also known as TAPOPS Headquarters and Space Laundry.
The station itself posing as a mere laundromat as their cover. They use these laundromats to communicate with other members without suspicion. In addition to the main base, they are also many other members sanctioned in different parts of the galaxy with different missions.
On the finale episode of BoBoiBoy Galaxy, the station was destroyed by BoBoiBoy Solar in the battle against Captain Vargoba.
Again in BoBoiBoy Movie 2, the rebuild station was destroyed by Retak'ka.
Known Rooms
Training Arena: Used by TAPOPS member to improve their skills and abilites.
Library: Used to save books and literatures, and as a place to study.
Power Sphere Vault: Where the rescued Power Spheres are stored. It's protected by an impenetrable door. It is shown to have a high-tech locking system that can only be opened by higher rank members of TAPOPS.
Jail: Where all of the villains and criminals are arrested.
Cafeteria: A place to eat and rest on breaktime. Used by all members of TAPOPS.
Gallery
Promotional Images
See Also