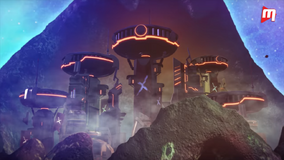 Space Pirates Colony is a location appeared in BoBoiBoy Galaxy. It is a colony inhabited by space pirates with Captain Vargoba as the leader.
Overview
The Space Pirates Colony made a brief appearance on the beginning of Episode 14. Fang visits his brother Captain Kaizo on the hidden place of the colony to asking for help BoBoiBoy to fight against Jugglenaut. It was known that Kaizo got a secret mission around the colony.
On the Episode 22, the Space Pirates Colony is a main location where BoBoiBoy and his friends have to go undercover as ship cleaners with Kaizo to retrieve StealthBot that the pirates possess.
Gallery