Sleeping Monster
Personal Information
Occupation
Checkers player
Biological Information
Race
Dragon/Lizard, Komodo
Media
"
I'm a Sleeping Monster Ok!
"
The Sleeping Monster (Raksasa Tidur) is a character in BoBoiBoy. He is the all-time arch nemesis of Papa Zola.
Story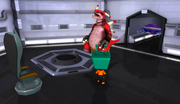 Sleeping Monster came to earth which made Papa Zola angry, he attacked him with his Sleeping Wave but Papa Zola woke up and kick him with his "Kick of Authourity".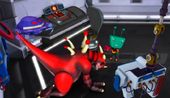 He came out from the Video Game along with Adu Du and Probe, Adu Du told him to attack BoBoiBoy and his friends. When they arrived at Tok Aba's house, Adu Du said that they have a present for BoBoiBoy, but Probe wrapped him using his extra wrapping paper with big box and ribbon for his belief that Sleeping Monster is literally a present. The Sleeping Monster  attacked Boboiboy's friends by making Bubbles.
BoBoiBoy, Gopal and Papa Zola entered Sleeping Monster's Dream, Gopal challenged Papa Zola and Sleeping Monster to play checkers but Papa Zola doesn't know how to play it so he was replaced by Tok Aba. Sleeping Monster was defeated by BoBoiBoy.
Abilities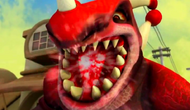 Tactics
Trivia