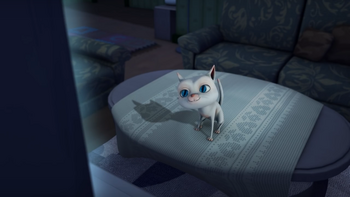 Sasha is a minor character in the BoBoiBoy. She appeared in a telenovela called Sack of Red Roses. She is the long lost cat of Azroy (her owner).
Story
She was mentioned by Probe as Azroy's friend, but then it is not yet revealed that she is a cat until the next episode.
Ochobot showed to BoBoiBoy Cyclone the final episode of the Telenovela "Red Roses" where Azroy finally reunited with his cat. Because the ending is dramatic, BoBoiBoy Cyclone cried and turned back to BoBoiBoy Wind.
She made a cameo when watching the talk show, MKHIPI. She is one of the viewers of the talk show.
She appeared in a flashback with Potato when Cocoa Guava is walking.
Trivia
Gallery
See Also