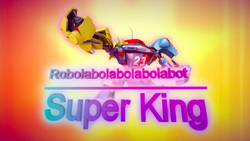 Robolabolabolabolabot Super King is an upgraded version of Probe and the Robolabots during the soccer game against BoBoiBoy and his friends.
At first, there are some identical versions of Probe, a Yellow Robolabot and a Blue Robolabot, but when Team BoBoiBoy already scored twice, the Robolabots and Probe combined into one robot.
Trivia
Super King, along with Adu Du and Fang were forced to clean the school's corridor as a penalty and a punishment for cheating in the game which caused damage to school's property.
His name is hard to pronounce, unless they learned that it has only 4 "bola"s in his name.
Gallery
See Also