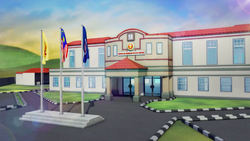 Rintis Island Primary School (Malay: Sekolah Rendah Pulau Rintis) is a school in Rintis Island. This is the school where BoBoiBoy, Yaya, Ying, Gopal, Fang and the rest of their schoolmates studies.
Staffs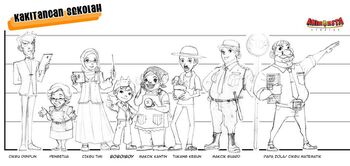 Teacher Timi - English teacher
Teacher Papa Zola - Mathematic and Physical Education teacher as well as football referees
Gardener (Pakcik Ali from Detektif Yaya Book #4)
Lady Guard
Puan Anne (from Detektif Yaya Book #4)
Teacher Mama Zila - Cleanliness teacher
Students
5 Honest
Others
Facilities
Stadium Oval - Located at the back of the school where BoBoiBoy and Fang compete in the game of the sprint race.
Canteen - Like other schools, there is also a canteen.
Rules
So far the known rules is "Not allowed to bring camera to school" (Season 2, Episode 3) but Gopal disobeyed it.
"On time means late" is also a rule in the school (Season 2, Episode 5).
In the staff room, there are warning signs that said "To the students, no entry" (Season 2, Episode 5).
Destruction
When Gopal thought that PETAI will attack BoBoiBoy and the rest after capturing Ochobot, he suddenly drilled underground which causes to shake above and destroyed the school building, the shaking was only stopped by BoBoiBoy Quake.
Mistakes
In the Season 2, Episode 12, the school was damaged by PETAI. But in some What Yaya Says episodes, the school is looking good and not damaged at all.

This might hint that those episodes were created before the destruction.
Gallery