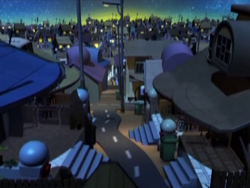 Rintis Island (Pulau Rintis) is a fictional island in Malaysia on which the majority of the BoBoiBoy series takes place. It becomes a recurring location in the franchise's later entries as BoBoiBoy's gang undertake more space-faring missions throughout the galaxy.
The spin-off series Papa Pipi takes place primarily on Rintis Island.
Locations
Residences
Cube Fortress: Adu Du, Probe and Computer's underground home and base of operations following the loss of their spaceship at the end of the first season of BoBoiBoy. It's accessed via a tunnel under a cardboard box in the Junkyard. Adu Du hollowed out the ground and constructed the base from scratch on his own.
Businesses
Public Spaces
Rintis Island Park: Located near the Kokotiam. It has mini gazebos, picnic tables and a playground.
The small hill: Home of the "crazy" dogs which scare off BoBoiBoy in Season 1, Episode 1.
Rubber Plantation: Located inside a forest.
The Ravine: A deep ravine that Adu Du and Probe accidentally fall into.
The Haunted House: An abandoned house thought to be haunted. According to Gopal and Mr. Kumar, a family of nine who lived happily there for six months. An event on the seventh month that is left ambiguous to the audience supposedly resulted in the house becoming haunted. The "ghost" haunting the house is revealed to have been Fang practising his Shadow Manipulation and forming various shadow creatures that scared away anyone who got too close to the house.
Cowboy Pete Monday's Alley: An alley owned by Cowboy Pete Monday. It was the fastest shortcut to the primary school until Cowboy Pete Monday's crazy cat rendered it too dangerous to pass through.
Rintis Island Primary School: The school of BoBoiBoy, Yaya, Ying, Gopal, and Fang.
Rintis Island Bank: The place where the Three Robs hid inside the safe in an attempt to escape the police.
Bus Stop: The place where BoBoiBoy's friends wait for BoBoiBoy to go camping.
Rintis Island Jetty: The place where Papa Zola starts his Truth's Squid-Catching Business Empire.
Rintis Island Police Station: Papa Zola once was imprisoned here.
Trivia
In the 17th issue of the BoBoiBoy comic magazine, it was stated that more areas on the island will be revealed such as a ferry terminal (the jetty), places where BoBoiBoy and Tok Aba shop, how Ochobot rides public transport, Ying and Yaya's favourite place as well as places Fang and Gopal spend time (respectively) during the weekends.
See Also