Platypus Monster is a gigantic alien resembling a platypus that resides on Planet Gurunda. According to the tablet that holds information about the planet, she can also talk.
History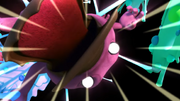 The Platypus Monster appeared in the episode Planet Gurunda Exploration, when BoBoiBoy and Gopal went to Planet Gurunda to track down the location of a Power Sphere. They both took a white sphere which they both thought was the Power Sphera, but it was actually an egg belonging to the Platypus Monster. She soon found out who the egg was stolen by and became angry and started to chase them both. But Yaya managed to calm her down. After the Platypus Monster's son's egg hatched, he thought Gopal was his mother, which made her infuriated. Her son then bit Gopal's right hand, causing him to hit him. The Platypus Monster became angrier and started chasing after Gopal again. BoBoiBoy, Yaya and Ying rescued Gopal from being devoured by her with a trap that restrained her in a lump of chewing gum and finally, she calmed down again until Gopal threw her son into the gorge, but luckily, he jumped and saved him. The Platypus Monster then forgave him because he saved her son.
Appearance
The Platypus Monster is an alien that inhabits Planet Gurunda and is similar to a platypus on Earth but differs in size and color of feathers (purple). The Gurunda giant has six legs, a duck's snout and a large, wide tail. On her back she is also equipped with sharp thorns to attack the enemy.
Abilities
Submerge Into Ground: She can dive into and leap from the sand on Gurunda as if it were water.
Thorn Attack: Her back is covered in large thorns that she can launch from her body in any direction and rapidly regenerate them.
Trivia
Unlike a normal platypus, she has six limbs (four arms and two legs) and is very huge.
Despite TAPOPS lacking information about Gurunda's life and population, it has information on the platypus monster and even states that she resides on planet.
In the English dub on YouTube, she has a British accent.
She have some similarities to the Giant Penguin in BoBoiBoy Movie 2 because they are very protective of their children. Due to Gopal's fault, she chases after BoBoiBoy and Gopal angrily. When their son was with Gopal, she then chased after him. Eventually, he was reunited with his son. Unlike the Giant Penguin, she can speak. They also share the same voice actor.
See Also