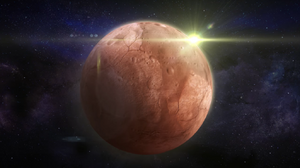 Gurunda is a desert-like planet where plant-like aliens reside.
Overview
This planet is a desert planet, with rocks formations and cacti similar to those on Earth. Water is scarce on this planet since it can reach up to 100 degrees Celsius, causing water to evaporate on contact with the planet's surface. Most living things obtain the water they need from cacti and the occasional oasis.
The buildings of the Kaktoi and Cattus villages are white and green, and they take the shapes of cacti. One of the main inhabitants of the planet is a cactus-like humanoid being, who reside in tribes of families, one notable tribe called the Kaktoi Tribe. A feline cactus-like species are also inhabitants of the planet, one of which lives near an Oasis and is home to Cattus. Numerous other life forms like the Gurunda Monster also live in this harsh climate.
Known Inhabitants
According to TAPOPS' data, any types of inhabitants (labelled "life") on the planet and its population were unknown, except for the Gurunda Monster.
Kaktoi Tribe Members
Cattus's family
Trivia
Gurunda is a play on "gurun", which means "desert" in Malay and Indonesian.
Gallery
See Also