Ochobot is a character in BoBoiBoy and BoBoiBoy Galaxy. He is the Power Sphere responsible for BoBoiBoy's Gang's powers.
History
Early Life
Like all power spheres, Ochobot was created in the power sphere lab, presumably by the Kubulus. Due to many wanting to harness the powers of the incredible power sphere, Ochobot presumably fled in hopes of escaping the Power Sphere Hunters. However, some time down the way, he is somehow deactivated and procured by Adu Du and has been in his possession until Adu Du arrives on Earth.
Ochobot first appears when BoBoiBoy tails Probe after the robot has stolen some of the cocoa powder from Tok Aba's shop. After BoBoiBoy mistakenly activates him, Ochobot secretly escapes alongside BoBoiBoy and disguises himself as BoBoiBoy's soccer ball. He later reveals himself to the young child, giving him his soon-to-be iconic Elemental Powers, Elemental Split and the Elemental Forms. When BoBoiBoy has trouble trying to defend Ochobot from Adu Du, who wishes to take the power sphere back, Ochobot gifts BoBoiBoy's friends: Yaya, Ying, and Gopal, different types of powers. However, in the battle, Ochobot forgets the true nature of the powers that BoBoiBoy's friends possessed.
For the rest of the series, he can be seen advising and helping BoBoiBoy, even giving a power band to a new ally, Fang.
During the movie, Ochobot was looking forward to a camping trip, that BoBoiBoy continually forgets to attend due to his superhero duties and is duly upset. He is suddenly contacted by Klamkabot, who BoBoiBoy mistakes as his grandfather, who is being hunted by Power Sphere Hunters. He is later captured by Bora Ra, causing a BoBoiBoy's Gang and Papa Zola to mount a rescue expedition to save Ochobot. Ochobot was able to escape thanks to Klamkabot and was finally able to meet up with BoBoiBoy once more. After Klamkabot provides a distraction, BoBoiBoy manages to take Ochobot to the Power Sphere Lab, where Ochobot is upgraded and inherits Klamkabot's teleportation ability.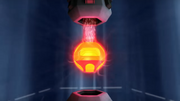 Skills and Abilities
Abilities
Although it's unconfirmed what kind of Power Sphere Ochobot is, due to the nature of his abilities (before the upgrade), Ochobot is likely the Power Sphere of Manipulation, since all the powers he had gifted to BoBoiBoy's Gang has to do with the manipulation of a certain substance or nature with the help of Power Bands.
During BoBoiBoy: The Movie, he has inherited Klamkabot's status as the Power Sphere of Teleportation, and is now able to open portals and teleport people to any location, as long as he knows where they are being headed.
In BoBoiBoy Movie 2, it is revealed that Ochobot is actually the Power Sphere of Suction.
Teleportation Power (Kuasa Teleportasi) - Ochobot special power that can be used after Ochobot is fully upgraded.

Teleportal - By using his teleportation power he can open portals to distant planets that need to be accompanied by the correct coordinates.

Elemental Suction - By activating the suction power on Ochobot, BoBoiBoy uses Ochobot to drain Retak'ka's Elemental Powers.
Power Bands
Appearance
Ochobot is yellow and spherical in shape. Ochobot has five hooded compartments that hold the hands and wheels that can be removed when the Ochobot is about to use them. Ochobot can also disguise himself as a ball to prevent him from being detected by others.
After Ochobot was modified and upgraded in the Power Sphere Lab, Ochobot's mini-appearance changed from its original form but still retained its identity as a yellow Power Sphere. His wings and hands are complemented by a pair of light blue eyes. Ochobot's face is now an LED screen, it is a sophisticated alien technology. In this form, Ochobot has the Teleportation Power transferred by Klamkabot.
Personality
Ochobot is a robot that is always cheerful when he is with BoBoiBoy or his friends. He likes to spend time with BoBoiBoy by doing activities like camping. However, Ochobot can also feel sad when Boboiboy can't keep his promises, as seen when Boboiboy was unable to attend the camping activity in Boboiboy The Movie.
Relationships
Main article: Ochobot/Relationships
Trivia
Ochobot is the ninth generation of Power Spheres as revealed in the First movie.

"Ocho" means "eight" in Spanish, which may indicate a slight retconning of his origins as a ninth generation Power Sphere.

Ochobot obtains an upgrade in the movie from the Power Sphere Lab Guard. He now possesses teleportation powers given by Klamkabot, the first generation of Power Spheres.
Ochobot was destroyed by Bora Ra using a "Black Hole Compression". However, Klamkabot sacrificed himself and gave all of his last energy to Ochobot and revived him.

It is possible that Ochobot was created by the Kubulus and was teleported across the galaxy by Klamkabot according to the prologue in the BoBoiBoy: The Movie Comic Book Adaptation.
From the official BoBoiBoy Magazine, it is revealed that Adu Du did not create Ochobot. He actually found him somewhere before arriving on Earth.
Despite Ochobot being severely damaged in the end of the movie, he is seen to have returned to his normal state by the end of the picture credits (though Probe does use duct tape to help him). From the fan mails, it is revealed that Ochobot can heal on his own as Power Spheres are capable of self-healing since they are all built with alien technology.
As revealed in BoBoiBoy Magazine #55, Ochobot is the last generation of Power Spheres, which means he is the youngest power sphere.
Ochobot is the first Power Sphere to change their appearance.
Ochobot is like a father figure to BoBoiBoy because he is the one who often takes care and gives advises to him.
Ochobot used to be one of the students at Rintis Island Primary School for a week because he was bored at home. Eventually, he found that school on Earth was not challenging enough for him.
Ochobot loves cocoa because it is a cooling liquid in his body.
Many customers at the Tok Aba's Kokotiam love the way Ochobot brews cocoa.
Ochobot has no fear of horror stories.
It was revealed by DataBot in the first BoBoiBoy Galaxy season finale's post-credit scene that Ochobot is not the original Elemental Power Sphere and that his Elemental Powers came from 7 different Power Spheres.

The Light Elemental Power came from SinarBot (GammaBot as known in BoBoiBoy Movie 2).
Fire Elemental Power may have come from FireBot.
The Earth power has come from CrystalBot (Revealed in BoBoiBoy Movie 2).

According to BoBoiBoy Movie 2 Ochobot gets elemental powers through an incident 100 years prior during a fight between Hang Kasa and Retak'ka, Hang Kasa uses Ochobot to drain the powers from Retak'ka.
In BoBoiBoy Movie 2, it is revealed that Ochobot is actually the Power Sphere of draining power.
Gallery
Video
References
See Also