Mukalakus Robot Destroyer (Robot Pemusnah Mukalakus) is a giant green robot, which Adu Du used to fight BoBoiBoy in the Season Finale of the first season. He is a present from Bago Go to Probe for buying the Electric Spatula. Though, it has been defeated by the three BoBoiBoys after BoBoiBoy Quake gained his true potential.
Story
Season 1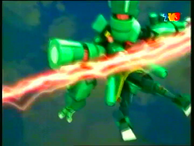 When Adu Du is asking for some weapons from Bago Go, he was so surprised and he even fainted after he saw that all his weapons were too expensive, so Probe sold his Spaceship to Bago Go, when Adu Du woke up, he scolded Probe for selling his spaceship but it was replaced by the Electric Spatula, because Probe bought the Spatula, Bago Go gave him a mysterious gift, soon it was revealed that it was the Mukalakus.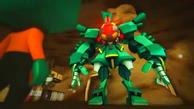 After Adu Du found out that the mystery robot/gift is the Mukalakus,he and Probe used it to defeat BoBoiBoy and his friends. BoBoiBoy Thunderstorm and BoBoiBoy Cyclone tried to destroy it, they nearly defeated it and gaining upper hand at first. However Adu Du kidnapped Ochobot and uses him as the power source, making the Mukalakus even stronger. He easily defeated BoBoiBoy Earth and overpowered BoBoiBoy Lightning and BoBoiBoy Cyclone, defeating them and turned them back to BoBoiBoy Wind and BoBoiBoy Lightning . After seeing this event, BoBoiBoy Earth forced himself to gain more power then transformed to BoBoiBoy Quake and also trying to stop him. He easily gain an upper hand on Mukalakus and with the help of BoBoiBoy Thunderstorm and BoBoiBoy Cyclone, they defeated the Mukalakus and saved Ochobot.
In the last episode, during Adu Du's nightmare, he was seen fixing Mukalakus so he can defeat BoBoiBoy again, but since PETAI killed Probe, Adu Du changed his mind and planned to use it to defeat Ejo Jo in the next episode in order to avenge the death of Probe.
Adu Du used Mukalakus to defeat Ejo Jo and saved BoBoiBoy and his friends.
Powers and Weapons
| Name | Ability | Attacked |
| --- | --- | --- |
| Flying Boosters | used to fly fast | None |
| (Tembakan Laser Pemusnah) | a red laser that can destroy something in long distances. | Ying, Ejo Jo (missed) |
| Hard Punch (Tumbukan Keras) | 100x stronger than any other punch. | Yaya |
| Maximum Laser (Laser Maksima) | a powerful laser that can make an enemy weak and destroy it's surroundings, 150% powerful than the previous laser. | BoBoiBoys Thunderstorm and Cyclone |
| Red Laser Blade (Pedang Laser Merah) | used to attack his enemy. | BoBoiBoys Thunderstorm and Cyclone, Earth Golem, Ejo Jo |
| Triple Laser Maximum (Tiga Laser Maksima) | a laser that can shoot three at a time and even more powerful. | Earth Golem |
Trivia
Whenever this robot is about to shoot, it makes a sound of a starting engine.
Gallery
See Also