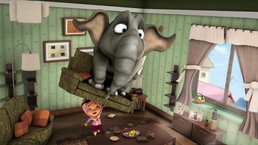 Mr. Alebi is a minor character in BoBoiBoy. He is an elephant who is scared of mice.
Series
In Season 1, Episode 3, BoBoiBoy Wind remembered that Yaya is the strongest of his friends, because she could carry an elephant while it is standing on a sofa.
Trivia
The scene where Yaya lifted him with the sofa originally came from Yaya's Introduction commercial.
He is featured in the 2011 Disney Channel Commercial of the series, in the english subtitle, he was mislabled as Eleby.
See Also