MotoBot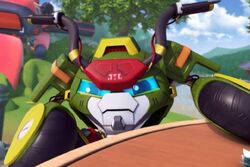 Personal Information
Biological Information
Media
Voiced by
Mohd Ariff Abd Rahman
MotoBot is a new character in BoBoiBoy Galaxy. He is part of the eighth generation of Power Sphere.
Overview
BoBoiBoy Galaxy
He is the Power Sphere found by Cici Ko. In Episode 1, he is hunted down by Space Pirates. Cici Ko contacts BoBoiBoy and escapes with MotoBot to Earth.
In Episode 2, while Cici Ko is still repairing the spaceship, MotoBot is kidnapped by Adu Du and Probe after they put Cici Ko, Gopal, BoBoiBoy and others (except for Tok Aba and Ochobot) to sleep. Cici Ko manages to track MotoBot down to an abandoned space station. He, BoBoiBoy and Gopal saved him from Adu Du and Probe.
Powers
MotoBot can produce high tech vehicles. The vehicles are designed to suit the driver's character, colour scheme and powers. The vehicles have glowing patterns and some can have cannons.
Vehicular Materialization/Space Vehicular Materialization
Trivia
His biodata is revealed in an official image of the upcoming BoBoiBoy Galaxy game.
Since he gives motor vehicles, hence, its name is "MotoBot".
His personality is curious.
MotoBot can also used as a vehicle as seen in Episode 2 of BoBoiBoy Galaxy.
Excluding Ochobot (who has appeared in the original series), he is the first Power Sphere to appear in BoBoiBoy Galaxy.
Gallery
Screenshots
See Also