Kurita is a robotic hybrid creature that was created by Yoyo Oo. It first appeared in BoBoiBoy: The Movie.
History
Initially, Kurita is a small octopus but enlarged when Adu Du and Probe were directed by Bora Ra to bring it sightseeing and advised not to expose it with water. But otherwise happened, when Adu Du and Probe were forced out from the Tengkotak's Spaceship that made them to be thrown out into the sea.
Then, Kurita became very huge and chased Adu Du and Probe. When they were running away, Adu Du and Probe met BoBoiBoy at the middle of the sea to save Ochobot. All of them were chased by Kurita. Adu Du and Probe were dragged by them using a fishing rod. Therefore, Fang used Shadow Attack while BoBoiBoy changed to BoBoiBoy Water and used Water Geysers to defend themselves from Kurita. When Kurita jumped to attack them, BoBoiBoy changed into BoBoiBoy Thunderstorm and used Thunder Spear. Fang combined his attack with Shadow Spikes and they managed to paralyze Kurita.
When they reached the Floating Island, Kurita returns and surrounds them. Therefore, BoBoiBoy commanded Yaya to lift their boat with her gravity power. But, their attempt still failed because Kurita could fly.
Eventually, Papa Zola got an idea and asked Gopal to close his eyes and threw Gopal towards Kurita and asked him to change it to food. Gopal followed and changed Kurita to fried Calamari. Kurita became their food when they explored the floating island.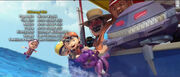 In the picture credits, it was now seen as a small squid. Adu Du and Probe found it on their way to Rintis Island with BoBoiBoy and friends. They adopted it and treated it like their child.
Abilities
Size Enlargement: Kurita initially was only a small octopus but when its body touched the water, its body absorbed the liquid and got the ability of size enlargement. This ability is lost after being defeated by Gopal.
Swimming: Using its tentacles as the rower to help it to swim.
Flying: Kurita used all of its tentacles and moved them like a helicopter to give it the ability to fly.
Shape
Its body and head is purple that equipped with metal pieces as the shield. Its teeth and beak that made of mechanical tool and having 6 tentacle function as the rower to help it to swim and fly.
Trivia
Kurita is taken from sotong gurita, which means octopus in Malay.
Video