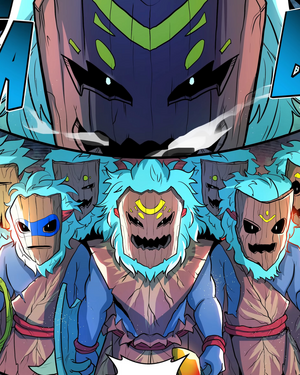 Kadruax Tribe also known as Baja Tribe are the natives of Planet Kadruax.
Story
Baja Tribe is an intelligent species that lives in villages. They spoke in a language that sounded like "ba ja ba ja". It is not clear who their chief was, other than Adu Du during his visit to the planet.
Although on the outside they look like barbarians (Qually once said that they eat humans), but in fact they turn out to have a history of past civilizations. They are known to have built a pyramid where they traced the past when they were rescued from a prolonged drought by Kubulus immigrants who brought a Power Sphere called PasuBot to re-fertilize their land, even PasuBot was kept inside the pyramid.
Appearance
Each member of the tribe is blue-skinned and turquoise-haired, wearing a dry leaf shirt and a mask.
Bordered tribes
The ttribe (south) is bordered by the northern (Rusin).
See Also