| | | |
| --- | --- | --- |
| " | "Defenders of Evil, Admirers of Naughtiness" | " |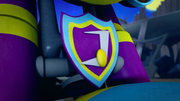 Superjahat Jero-Jero, or Jero Jero is the criminal defense team that was established by Adu Du. The name was taken from the suit that Probe bought, which the name was created by Bago Go.
Story
Probe wanted to buy a weapon from Bago Go, but Probe noticed something behind Megaton Eton X500 Bomb. At first, Bago Go told that it was his son's birthday party dress, but Bago Go started to trick Probe with telling that it was the suit package of superhero Jero-Jero. He said with the dress, they can obtain the confidence power. Probe still bought two even the price was 30 million 30 cents.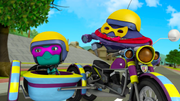 After buying the suit, they wore it and helped Shield Monster fighting BoBoiBoy and his friends. But, they lost and ran away. After the incident, Adu Du started to declare themselves as Superjahat Jero-Jero.
Adu Du was unsatisfied with the organization of Earth Day Carnival of Rintis Island Primary School. So, they destroyed the carnival by saving Shield Monster and filling cement and plastic in the 3R Earth replica. After helping Shield Monster, they knew that Ejo Jo will arrive on Earth soon.
Adu Du warned BoBoiBoy that Ejo Jo is coming to the Earth. They showed the evidence with Jero-Jero intelligence information through Spacebook. They wanted to unite with BoBoiBoy to fight Ejo Jo. But when Captain Kaizo arrived, they were so scared then ran away.
After lost their power, BoBoiBoy asked for Adu Du's help with the excuse that Fang is the evil alien that needed help. After being urged, they finally agreed and they must follow their principle. They attacked Captain Kaizo's spaceship.
Adu Du and Probe tried to help the Serial Laundromat Robber (RDB) but was finally defeated in the hands of BoBoiBoy Thunderstorm.
Logo
Logo for this team has the white letter J with the purple, blue and yellow settings.
Principle
As told by Adu Du, the principles and objectives of the team are:
Defend the villains worldwide,
Any evil failure is their failure,
Any insult to the evil is the insult to them,
Cannot be stingy with other villains.
Team Members
Outfits
Adu Du: Blue suit with purple underwear, purple shoes, and purple eye mask.
Probe: Red cloth tied at the mouth with a yellow eye mask.
Trivia
Adu Du was seen erratic in holding a principle, because:

They did not want to help stronger villains like Ejo Jo.
They helped BoBoiBoy by telling Ejo Jo's incoming arrival and willing to cooperate with good people to fight the villain.

One of the scene in episode 22 with their logo transition is the reference to Batman's logo transition.
See Also