The Grocery Shop (Kedai Runcit) is a shop in Rintis Island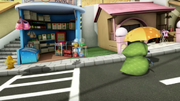 .
Early Design
When the series in under production in 2009, The Grocery Shop is one of the establishments that is included, the others are Tok Aba's Cocoa Shop and the Playground.
Also in the blogspot of Animonsta Studios, it was revealed that the name of the owner is Ah Pin, whenever BoBoiBoy passes by, Ah Pin always gives him candies and Ice Cream, so far, Ah Pin is an unreleased character.
A smaller version of the Grocery Shop was seen in Season 1, Episode 5 infront of the Rintis Island Post Office.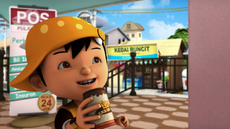 Goods
What Yaya Says: Saving Money
It was replaced by a Toy Shop but the design is still the same.