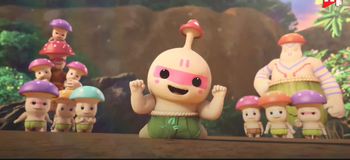 Cendawa Children is a group of children living on Planet Rimbara. They made their debut in the BoBoiBoy Movie 2.
History
In BoBoiBoy Movie 2, when Retak'ka attacked on Planet Rimbara to strengthen his elemental powers the Cendawa Tribe was saved by TAPOPS team before Retak'ka could attack. Mama Cendawa counted her children and found Cendamad missing, allowing Ying to search the place to find him but suddenly Retak'ka attacked. Retak'ka was stopped by Yaya and Fang buying time for Ying to leave Cendamad safe on the ship with her mother.
In the end of the movie, BoBoiBoy upon seeing them asked who are they, then Tarung told him that they are the Cendawa Tribe who will temporarily live on Earth.
TBA
List of Childrens
Gallery
Promotional Images
Screenshots
See Also