This article is about the song of the series. If you are looking for the team, click Team BuBaDiBaKo.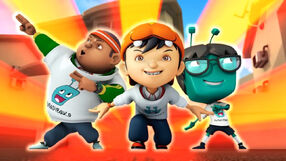 BuBaDiBaKo (Buat Baik Di-Balas Koko) is a song from Season 3, Episode 4. The song is performed by BoBoiBoy, Gopal, and Adu Du, during their mission to earn some money to buy the cocoa and give it to Bago Go so Adu Du can get the converter to make Probe alive again.
Lyrics
CHORUS:
Team BuBaDiBaKo~
Buat baik dibalas koko~
Apa masalahmu?
Kami sedia membantu~

Gopal:
Tersebutlah kisah si kepala kotak,
Kulitnya hijau, kepalanya botak,
Dulu dia jahat dan sangat durjana,
Sekarang nak jadi baik macam mana?

Adu Du (speaking):
Bila masa aku nak jadi baik?

BoBoiBoy:
Hei Adu Du apa kau merapu?
Kan kita orang dah janji nak bantu,
Untuk kumpul duit dapatkan koko,
Itulah misi sebenar--

BoBoiBoy & Gopal:
BuBaDiBaKo!

Adu Du:
Oh ye betul lah apa kau cakap tu,
Nasib baik kau mengingatkan aku,
Nak hidupkan balik robot kesayanganku,
Mari kita cari orang untuk dibantu!

Fang:
Ha! Aku tahu! Tadi ada pakcik tu!
Dia sibuk cari korang dan Adu Du!
Mari ikut aku ke belakang tu je,
Hah! Sebenarnya aku tipu sahaja~ (laughing)

(REPEAT CHORUS)

Gopal:
Okey Adu Du jom bergotong-royong,
Banyak orang yang nak minta tolong,
Kau kena sabar jangan cepat nak marah,
Kalau tak sabar nanti kau juga yang parah!

Mr. Mat (speaking):
Terima kasih...

Adu Du:
Macam mana lah aku nak jadi cam korang,
Rupanya nak jadi baik bukannya senang,
Tapi aku mesti terus mencuba,
Kalau tak macam mana nak hidupkan Probe semula? (crying)

(REPEAT CHORUS 2X)

BoBoiBoy:
Seminggu tiga hari telah pon berlalu,
Duit yang kita kumpul dah cukup dah tu,
Sampai sini saja misi BuBaDiBaKo,
Akhirnya Adu Du dapat lima tong koko!

Gopal:
Siapa kata orang jahat akan terus begitu,
Tengoklah Adu Du si kepala dadu~

Adu Du (speaking):
Apa kau kata? Eh, eh, sabar, sabar.
Gopal (speaking):
Ha, macam ni lah perangai yang cantik!
BoBoiBoy (speaking):
Menahan marah, sopan santun...
Adu Du, BoBoiBoy dan Gopal (speaking):
Barulah terbaik!
Informations
In the English version, it is known as Operation Cocoa.
Video
See Also