BoBoiBoy Solar is the evolved form of BoBoiBoy Light. He debutted in BoBoiBoy: The Movie as one of BoBoiBoy's new elemental forms. He returns back at the first season finale episode of BoBoiBoy Galaxy.
Story
BoBoiBoy evolved when Ochobot got destroyed by Bora Ra and gave his last power to BoBoiBoy and his members, bringing BoBoiBoy to enragement.
After Captain Vargoba knocks BoBoiBoy hard, he is blasted from room to room before finally flying out into outer space in a rather weak condition, beginning to freeze. However, the sun later appears and melted the ice, causes BoBoiBoy to regain his Solar power.
He attacks Captain Vargoba using Solar Eclipse Attack, Captain Vargoba was confident at first that he can take the attacks using his shield, but due to the attacks power, he then bounces the attack with his shield, and causes it to hit the Space Pirates's ship. BoBoiBoy in his Solar form leaps back into the TAPOPS Station using Solar Leap and finishes Captain Vargoba using Multifold Solar Eclipse Attack, and blasts Captain Vargoba. However, the recoil sends him flying out of the station.
BoBoiBoy Solar was called out alongside the other elements to battle Retak'ka. He used Solar Eclipse Attack on him but it was absorbed by Retak'ka, despite putting up a decent battle, Solar is caught and absorbed by Retak'ka, ending his existence. His element is used by Retak'ka as "Gamma".
When BoBoiBoy get back his stolen elements, including the Light Element, which returned Solar back to BoBoiBoy. He was later summoned to perform an Elemental Fusion with BoBoiBoy Thunderstorm to form BoBoiBoy Supra to defeat Retak'ka in the final battle.
Solar returned in the comic adaption of BoBoiBoy Galaxy (Season 2). He also had a fusion with BoBoiBoy Thorn, called BoBoiBoy Sori in the 9th issue of Galaxy season 2.
Appearance
In the first movie, BoBoiBoy Solar wears similar clothing to his regular outfit, though in different colors. He wears a white jacket with orange ascents. His pants are orange with a decorative yellow symbol on the right pant leg. He wears white sneakers which has orange laces and black soles. Solar wears a white hat with noticeable yellow patterns on it. The logo can be see the center and the cap's spines are yellow. He also wears bright orange shades.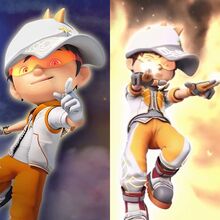 In BoBoiBoy Galaxy and the second movie, Solar now has a gray incorporated into his design. The bill of his cap is now gray, along with parts of his sneakers, pants, gloves, and shirt. His jacket is short sleeved with yellow folds at the ends. The insides of the jacket seem to be orange. Bright yellow patterns can be seen adorning most of the outfit. Like his previous design, his cap is white with yellow spines. Solar continues to wear shades, though it is now a lighter shade of yellow.
Personality
Solar shares many of Light's characteristics, though is not shown much. Like Light, he is intelligent and powerful, and also smart and strategic. Due to him being the embodiment of BoBoiBoy's rational thinking, he could be someone who is very careful in his decisions. He is also stated to be very confident which leads him pushing everyone away in attempt to finish the goal by himself.
Abilities
| | | |
| --- | --- | --- |
| Attack | | 5/5 |
| Defence | | 3/5 |
| Agility | | 5/5 |
| Courage | | 5/5 |
| Speed | | 5/5 |
Solar Beam Strike (Tembakan Solar) - This attack was performed in a way that; starting with BoBoiBoy Solar's eyes generating bright sunset yellow light beam, while his eyeglasses takes place, to when the destructive Solar Beam Strike blasts from his eyes.
Solar Sword (Pedang Solar) - BoBoiBoy Solar's only weapon (only appeared in concept art).
Solar Eclipse Attack (Tembakan Solar Gerhana) - This attack is so powerful that it can break anything that is reflecting it. It can nearly kill any living being.

Multifold Solar Eclipse Attack (Tembakan Solar Gerhana Berganda) - Solar's yet most powerful move, anything inside the beam can be obliterated in seconds.

Solar Leap (Lompatan Cahaya) - Solar uses this to teleport. The light particles around him are concentrated in one location to allow him to jump to a designated location in the blink of an eye.
Solar Sword (Pedang Solar) - Appeared in Planet Windara, It is a sword used to slash enemies. Also shared with BoBoiBoy Quake, and BoBoiBoy Cyclone

Solar Sword Shot (Tembakan Pedang Solar) - Solar charges energy from the tip of the sword and shoots a beam from it.
Trivia
Originally, Solar had a "Solar Sword", but the sword was scrapped. The 'sword' concept seems to have been reworked into BoBoiBoy Supra's Supra Sickles.

The solar sword reappears later in the issues of BoBoiBoy Galaxy Season 2.

He's an elemental form that wears glasses, alongside Supra.
Solar is the second evolved elemental form to appear in BoBoiBoy Galaxy since Thunderstorm on episode 14.
Although Solar remains as one of BoBoiBoy's latest evolved form, he has actually takes the part of having killed more aliens than any other BoBoiBoy forms (killed both Bora Ra and Captain Vargoba respectively).
Solar/Light are a foil to Leaf/Thorn. While Solar/Light are intelligent and arrogant, Leaf/Thorn is naive and childish.
He is said to always forgets others, but it might due to the fact he is too focused on his goal.
Videos
Gallery
See Also