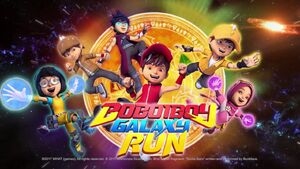 BoBoiBoy Galaxy Run is a BoBoiBoy Galaxy game launched by WHAT (games). The game can be downloaded from the Google Play Store and the App Store.
Summary
Enhance the power of BoBoiBoy, a popular non-stop free running game based on popular kids full of amazing adventures, fun, and galaxy adventures for you to continue your journey.
Power Sphere gives unimaginable power. In the hands of evil aliens, they can wreak havoc on the entire universe. Run around the galaxy with your friends and defeat the villains who want to capture Power Spheres.
Features
CHOOSE YOUR BOBOIBOY HERO - Become a hero and save your teammates along the way! Once free, you can play as them until you die, after which you will return as the previous hero. Want to start with your favorite hero? Don't panic: You can unlock up to 6 characters from popular BoBoiBoy children's shows, including Fang, Yaya, Ying and more!
EASY ARCADE ACTION - Run and shoot automatically. All you have to do to play is press and swipe to jump, double jump, overcome obstacles and grab the Power Sphere to defeat the aliens and their robots.
ANSWERING THE CHALLENGE ? - Take on a series of missions as you fight to defend the galaxy and thwart the evil plans. So hop on it!
FUN WITH FRIENDS - Challenge your friends to the block or to the rest of the world to achieve your highest score on the leaderboard.
Characters of the game
See Also