"
After the destruction of the TAPOPS Station as a result of Retak'ka's attack, BoBoiBoy and his friends return to Earth to await their next command.

Unexpectedly, an old enemy reappears with a new evil plan.
"
BoBoiBoy Galaxy Season 2 is the second season of BoBoiBoy Galaxy. The season is currently being released in comic form.
Characters
Locations
Issues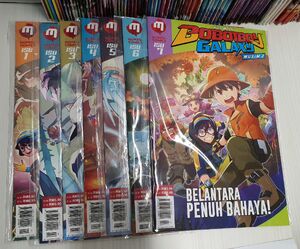 Trivia
This season is currently being adapted in comic format with a possible animated release in the distant future.

The reason for this was to allow Monsta to "efficiently develop and expand the Power Sphera Universe (PSU) within a reasonable time frame," in the wake of BoBoiBoy Galaxy, while simultaneously continuing production of other highly anticipated projects like Mechamato.[1]

At Kre8tif Virtual Conference, Monsta CEO - Nizam Adb Razak revealed plans for an upcoming movie BoBoiBoy Movie 3 formerly scheduled for release in 2021, now shifted to 2022, which is another reason for the season.[2]
The digital version of the comic is announced in the months April, May and June.
Videos
References
See Also