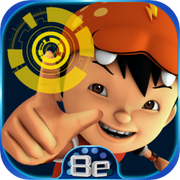 BoBoiBoy: Speed Battle is the casual iOS and Android video game based on BoBoiBoy series. It was created by 8elements Ltd, a games company which located at Hong Kong.
Description
BoBoiBoy Speed Battle is a fast and funny reaction game for two players on the same device. It is based on the famous Malaysian animated series BOBOIBOY produced by Animonsta Studios.
ENJOY A FUN AND CUSTOMIZABLE GAMEPLAY
Challenge your friends to a multiplayer battle of reflexes and knowledge!
Choose among several missions, follow the instructions and hit the button as soon as you see the correct answer. Be faster than your opponent to win a point! But be careful. Hit at the wrong time and you will lose a point. 12 missions are already available and we will add more in the weeks to come!
MAIN FEATURES:
Official BoBoiBoy free-to-play game, produced in partnership with Animonsta Studios.
Original sound effect from the BoBoiBoy animated series.
12 different missions to choose from already. More coming!
2 game modes (multiplayer or single player).
Grab your friend, classmate or parents and play a round of this fast-paced reaction game now!
Check also the special offer section within the game. Get for instance free Cocoa simply by referring friends.
Gallery
Videos
External links
See also