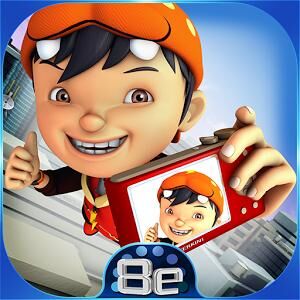 BoBoiBoy: Photosticker is an application based on series BoBoiBoy. It was created by 8elements Ltd, a games company which located at Hong Kong. The app was released on May 23, 2014.
Description
Your photo looks nice. How about you make it awesome? Make your photos super cute with BoBoiBoy Photo Sticker and share them with your friends!
ONLY FEW CLICKS TO MAKE YOUR PHOTO OUTSTANDING! - Take a photo or select it from your gallery - Choose your favorite stickers and play with them as you want! Move them, resize them, rotate them… - Select and add a beautiful frame to make your photo even nicer - Full screen edit and preview.
100s OF STICKERS AND FRAMES ALREADY AVAILABLE! - High quality stickers and frames - All from the famous BoBoiBoy animated series by Animonsta Studios - Write your own messages on top with BoBoiBoy official characters - New frames and stickers will be added regularly.
IMPRESS YOUR FRIENDS WITH YOUR BOBOIBOY PHOTOS! - Share easily your customized photos - All the main platforms are supported: Facebook, WHATSAPP, LINE, WeChat, Instagram etc…
Like us on Facebook at https://www.facebook.com/8elements to get more info about all our titles or simply to get in touch with us. We love to hear from you!
Gallery
See Also