BoBoiBoy: Adu Du Attacks is the arcade & action Android video game based on BoBoiBoy series. It was created by 8elements Ltd, a games company which located at Hong Kong. The game has two version, the trial version (free) and the full version (must pay) with the price $0,99.
In full version, it was available 30 stage and 6 boss stage also earning power like potentials and elemental splits, which based on Season 1 episodes.
Official Description
"Red alert. Attention everybody. Adudu is attacking Rintis Island again! As you all know, his mean plan is to steal Tok Aba's cocoa and therefore he sent his spaceship to Earth. To protect the valuable energy source, you must help BoBoiBoy defend Rintis Island and fight against all of Adudu's gang."
"This is a fun, challenging and exciting shooting game for your mobile phone! Download BoBoiBoy: Adudu attacks! and fight along BoBoiBoy now!"
Original soundtrack from the BoBoiBoy TV animation
15 stages with 2 difficulty levels
Revisit all scenes from series 1 in nice backgrounds
Utilize all 3 elemental powers to beat Adudu and his helpers
3 boss levels include Adudu, Probe and Super Probe
Trivia
This is the second BoBoiBoy's game, the first is BoBoiBoy Super Kick.
Based on BoBoiBoy's official Facebook, this is the first official mobile game that the series have.
Videos
Official Trailer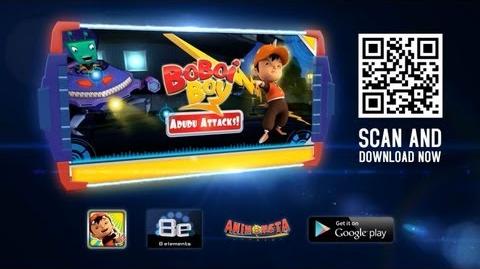 Gallery
Official Stills
Screenshots
External Website