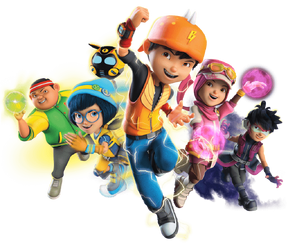 BoBoiBoy's Gang (unofficial name) is a team of heroes originating from Earth consisting of the franchise's main characters, BoBoiBoy and his friends.
Members
Main Group Members
Former Members
Adu Du - Joined temporarily in Season 3, after BoBoiBoy and his friends assisted the reconstruction of Probe, but left the group when BoBoiBoy accidentally hurt his mother, Ibu Bu. Despite having conflicting goals, Adu Du does help BoBoiBoy's Gang on occasion.
Probe - Joined along with his master Adu Du and left at the same time. Probe has a greater tendency to help out the gang due to his kind nature.
Affiliations
Gallery
See Also