Amato is BoBoiBoy's father and Tok Aba's son. He was mentioned in BoBoiBoy and made his physical appearance in Season 1, Episode 1's Extended Version and in the post-credit scene of BoBoiBoy Movie 2.
Story
Mechamato
See more: Amato on the MechAmato Wikia
Amato spent his life living on Kota Hilir with his father, Tok Aba. After witnessing a comet fall from the sky, he meets up and bonds with a Power Sphere named MechaBot. The two team up together to protect the world from invading Power Sphere hunters and more.
Blank Period
Sometime after the events of the series Mechamato, Amato met and married his wife. He then had a son, who was nicknamed BoBoiBoy. He spent some time raising BoBoiBoy for the first 11 years. During this time, it became tough to raise BoBoiBoy properly due to his job as an Ambassador in space.
At Kota Hilir train station, Amato was seen with BoBoiBoy at the train station, Amato told him not to tease Tok Aba too much and be independent. BoBoiBoy said goodbye to his father and says he's going to miss him to which Amato responded that he'll too. BoBoiBoy says goodbye to MechaBot and said that he can't wait to play mechanising games with him again. MechaBot told him to behave well. After boarding the train to go to Rintis Island, BoBoiBoy reminds his father to send him a postcard. Later, after BoBoiBoy was gone, Maskmana contacted Amato and MechaBot to take off before his spaceship landed.
At the end of the episode, Tok Aba videotaped his message to Amato to tell him about BoBoiBoy's condition and how he met Ochobot. After his message video stops, Amato rewinds his video and sees a scene where BoBoiBoy was seen asleep, Amato promised to his son that he will be back, wait for him.
Amato and his wife sent BoBoiBoy to live with Amato's father and BoBoiBoy's grandfather, Tok Aba, on Rintis Island for a while. After a year, BoBoiBoy was supposed to have come home, but it was decided that BoBoiBoy would live permanently with his grandfather instead, as BoBoiBoy had enjoyed living there.
In Season 3, Episode 23, Amato and his wife was unable to visit BoBoiBoy during a carnival on Sunday, like all the other parents did, as he was too busy with his work as an ambassador. Instead, Amato and his wife sent their son a postcard, telling them that they were sorry they couldn't come, but that they still loved and cared about him.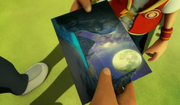 Amato appears in the post-credits scene, wearing MechaBot as his suit, currently working in a space station that is disguised as an asteroid. Maskmana contacts him, telling him that he was the person who was ought to help BoBoiBoy. Amato denies that, saying BoBoiBoy needs to be independent as there is a more important mission waiting for him.
Personality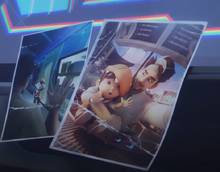 Due to being an ambassador, Amato is presumed to be a diplomatic and responsible person, having strong leadership skills, something which his own son inherits. He took up the mantle of being a hero, showing to be a person of justice and good.
Amato seems to care deeply for his family, especially his son BoBoiBoy. Even though he hasn't met up with his son in a very long time, he keeps a photo at his station of him and his son. He made a tough decision to send BoBoiBoy to live permanently with his father, knowing that he was just simply too busy with his important work to raise him properly.
He is also aware of BoBoiBoy's supernatural powers, as well as his status as a superhero and is obviously proud of his achievements.
Appearance
Amato is a well built man who has strong features. He has short black hair (brown in BoBoiBoy Extended) which has white stripes. His eyebrows are black and has a white stip on the end of his left eyebrow. He has a beard with a white strip right below his lip. He is seen donning MechaBot as a suit, but is seen in a white t-shirt in the old photographs with his son.
Trivia
The fan letter states that BoBoiBoy's parents know that their son, BoBoiBoy is a hero and at the same time worried about his condition.
In a BoBoiBoy Comics Magazine fan letter issue # 74, BoBoiBoy described his father as a very handsome man.
Although BoBoiBoy said that his father worked as an ambassador, Amato also appeared to be working with TAPOPS and also a friend with Maskmana .
After the release of BoBoiBoy Movie 2, there are indications that Amato is actually the father of BoBoiBoy in post-credit before being officially stated by Nizam Razak.
Amato is the main protagonist of his own series, also created by Monsta, called MechAmato.
Gallery
Promotional Images
BoBoiBoy Extended
BoBoiBoy Movie 2
Screenshots
BoBoiBoy Extended
BoBoiBoy Movie 2
See Also